Does the idea of eating raw fish sound outrageous to you? Sushi lovers will disagree. Sushi is a unique culinary experience that engages all your senses.
It's not surprising that there are over 4000 sushi restaurants across the US. Yet, ordering sushi at your workplace can be a bit tricky, especially if you are not well-versed with Japanese flavors. But we have you covered so that you can order the best sushi for your team members from your local caterer.
What are the different types of Sushi you can order?
The popular types include Maki, Sashimi, Nigiri, and Temaki.
Maki, known as a sushi roll, is the simplest type of sushi. It usually contains fish and vegetables rolled with rice and covered with a nori sheet. Maki is sliced into smaller portions before serving.
Temaki (also known as Tamaki) consists of a cone-shaped seaweed sheet filled with various ingredients. It is also known as hand rolls. The contents inside the cone-shaped sheet usually spill out. As a result, it is advisable to use your hands while eating, making it a less popular choice when ordering catering for lunch.
Sashimi is meant for a seasoned sushi connoisseur as it consists of pieces of thinly sliced raw fish (such as salmon, tuna, or halibut) without any other accompaniments such as rice or a seaweed sheet.
Nigri is a type of sushi where pieces of raw fish are laid over vinegared sushi rice. Unlike sashimi, you can eat nigiri with a pair of chopsticks.
Sushi is always served with soy sauce, a blob of wasabi, and pickled ginger.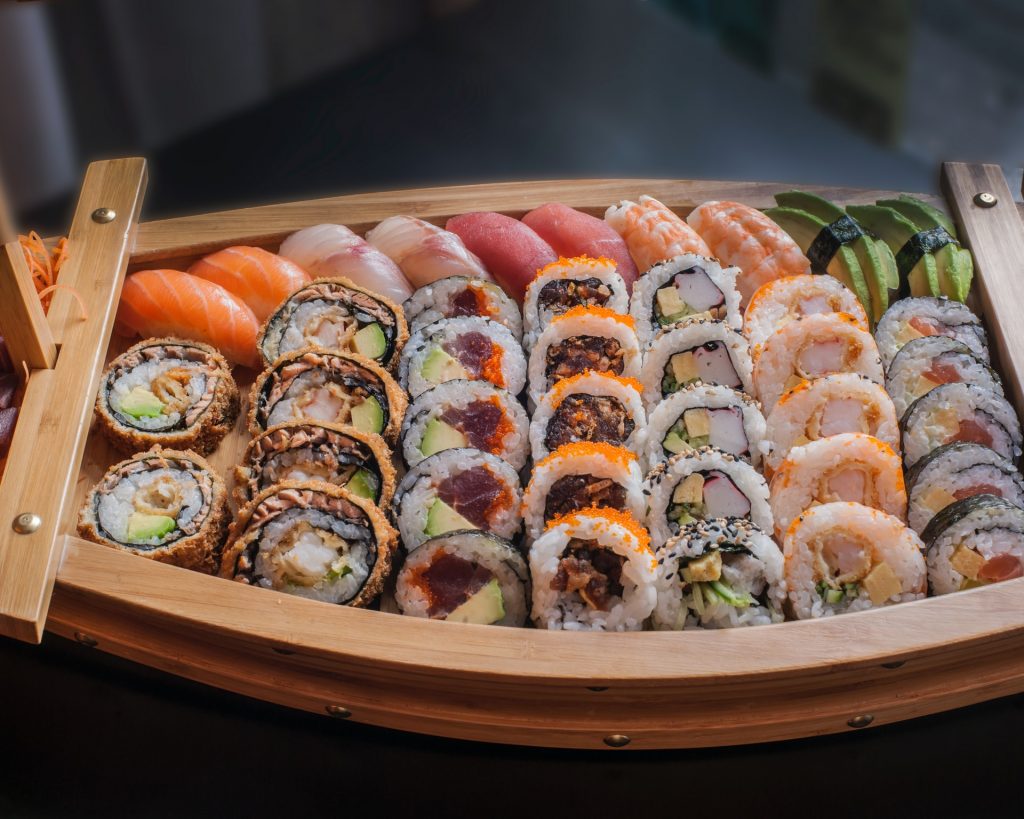 Best tips for ordering sushi at the workplace
Always choose a mix of nigiri, maki, and sashimi if your colleagues are new to sushi.
Go with the house favorites such as California Roll (cooked crab, avocado, and cucumber), Spicy Tuna Roll (Tuna chunks with mayonnaise and chili sauce), or Philadelphia Roll (Salmon with avocado and cream cheese).
You can also get vegetable rolls and experiment with different filling such as carrots, mushrooms, and avocados. If you are not confident about serving raw fish, you can consider ordering tempura rolls where the fish is batter fried and then rolled with rice and seaweed sheet.
For a complete experience, you can also order miso soup along with sushi. The delicate flavor of miso balances the intense flavors of sushi.
Sushi can be a problematic dish for those with dietary restrictions or allergies. It is best to play safe and order sushi rolls filled with vegetables only. Make sure to ask your corporate caterer to keep such rolls separately from regular sushi with fish.
Portion sizes can be a concern when serving sushi. It is advisable to check with the caterer about the number of pieces served on a plate. As a thumb rule, six pieces of sushi along with miso soup or a salad is sufficient for an individual.
Since serving raw fish demands extraordinary hygiene measures, always insist that your caterer served sushi as individually packaged meals to minimize the chances of contamination.
Ready to order some mouthwatering sushi?
Find the best caterers near you through CaterCurator who can serve sumptuous sushi platters and customize it as per your requirements. We have curated the right catering options for you so that you don't have to look too hard to local the best sushi in your city.