Ordering catering for office meals can be extremely stressful. You need to take into account the diverse taste buds and dietary preferences of your co-workers and clients. Depending on the occasion, you may have to order individually packaged meals instead of sharing platters so that no cleaning up is required. You also need to be mindful of the portion sizes to minimize the wastage of food.
To simplify the process, we have put together our top recommendations for creating a delicious catering spread: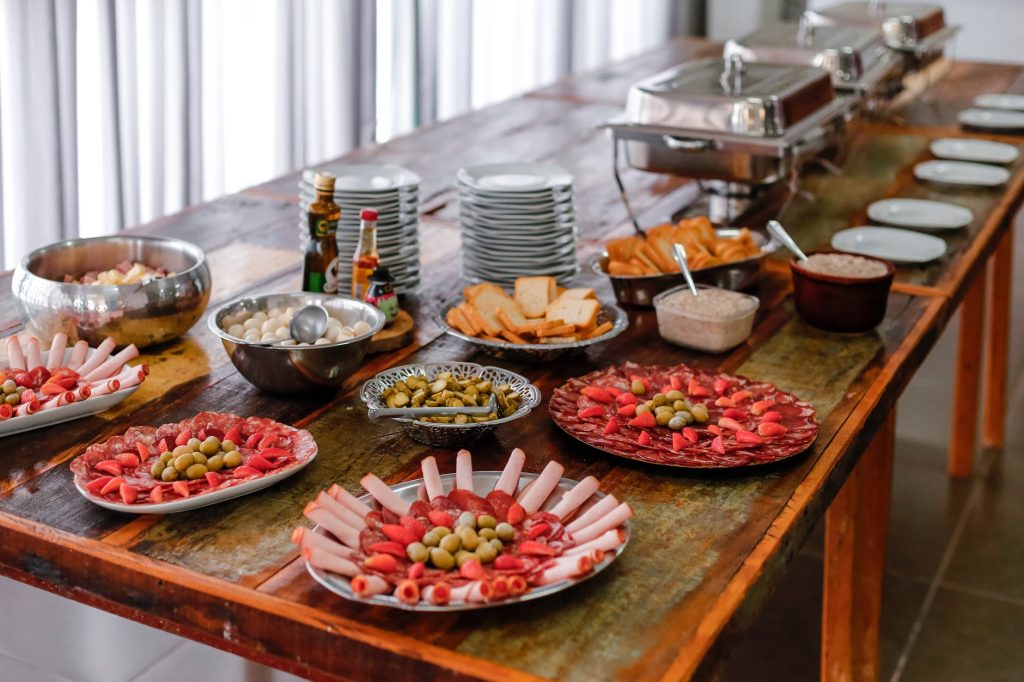 1- Sandwiches
When it comes to choosing meals for breakfast catering, it is hard to give the humble sandwich a miss. They travel well and are easy to eat, making them an excellent choice for breakfast meetings. You can opt for classic options such as ham and cheese sandwiches or play around with the proteins and veggies.
2- Healthy grain bowls
Salads have been done to death. It is time to try out healthy grain bowls. These are a nutritious meal option as you can relish carbs, proteins, and veggies in a single meal. You can even set up a build-your-own-bowl station at your cafeteria so that everyone can enjoy a tailor-made bowl.
3- Sushi
How about ordering a sushi bento box for a fantastic Friday lunch? Go for salmon or avocado rolls to play it safe or try out unique options such as soft shell crabs.
4- Asian stir-fry
A good stir-fry is the perfect comfort food for those days when everyone is racing against time to meet a deadline. Stir-fries are super healthy and jam-packed with flavors.
Bite-sized pieces of protein and veggies make stir-fries really easy to eat and ensure that you experience a wholesome meal right at your desk.
5- Kebab platter
A tray full of smoking hot, juicy, melt-in-your-mouth kebabs can make a sumptuous meal. With a char-grilled aroma wafting through the cafeteria, kebab is guaranteed to become a house favorite.
6- Jacket potatoes
Make dinners at work more exciting by setting up a baked potato bar. Ask the catering company to send different sauces and toppings to go with the potatoes.
7- Fajitas
Host a Mexican themed lunch by serving made-to-order fajitas. Fajitas are delicious and pair up really well with tacos or tortillas. Don't forget to ask your caterer for salsa and guacamole for a complete Mexican experience.
Wrapping up
Office meals are a fantastic way to foster a stronger bond with your co-workers and clients. Make sure to order a variety to keep things interesting for everyone.
If you are looking for corporate caterers for smart catering options for your office, you can also check out CaterCurator. CaterCurator is a marketplace to locate caterers in your area. You can use various filters such as packaging, dietary preferences, and delivery time and order delectable office meals.